Contents:
Finish carpentry is one of the most visible and important aspects in the construction of your home. Nothing adds to the beauty and value of your home like ornate woodwork. That special look that defines your home, and sets it apart from all the others. Even an ordinary entry way can be transformed into something extraordinary. Whether you are looking to upgrade your home, or build a new one. Whether you are trying to sell your home or just improve it's looks, remember that few things are more important than a good first impression.
Finish Carpentry is our passion. We are competitive and affordable in our prices, no matter what style or quality you prefer. If you prefer simple MDF trim, or elaborate stain grade woods; we strive to accommodate your needs. We have the skills to set your home apart. We also strive to make it affordable too. You might be surprised.
There are many grades and styles of finish carpentry, from basic and inexpensive such as paint grade MDF (medium density fiberboard), to very ornate stain grade woodwork.
For those who are budget conscious, MDF trim is often a good choice. MDF comes in a wide variety of baseboards, door casings and crown; and can be purchased at nearly every home improvement center. It is easily paintable, and different styles of molding can be combined to enhance it's look. For example, baseboard can be double stacked to provide taller baseboards up to twelve inches or more. Crown molding can also be double stacked, or even combinations of stacking trim under the crown.
In the two examples below, The baseboards are double stacked with 1" X 4" MDF on the bottom, with standard 3 1/4" baseboard on the top. The total height of the baseboard is 7". Plinth blocks are installed at the base of each door casing. 1" X 4" MDF casing wraps the doors. With MDF, you can achieve a very elegant look, yet still be very affordable.
The tops of each door, and even the windows, can be decorated with bed molding and bead molding, as in the examples below.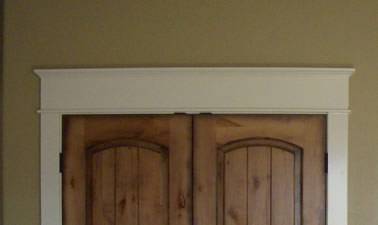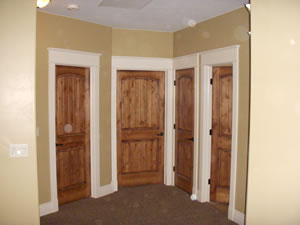 In the next two examples, 7" crown is double stacked with baseboard installed upside down, underneath the crown.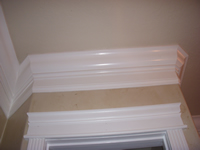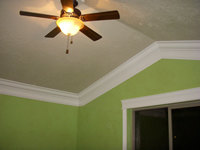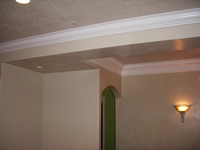 For those who prefer a more expensive stain grade wood, we can purchase rough-sawn hardwood in bulk and mill it into baseboards, casings etc. Not only will the customer see greater savings in cost, but it can also be quite unique.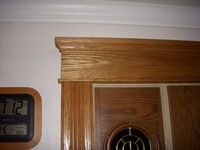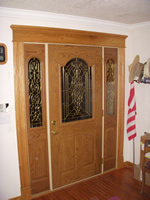 In addition to cost, another added advantage in milling the trim is that we can mill the casing in circles and arches, including elliptical arches. With this advantage, we can cover arched doorways and windows, as in the examples below.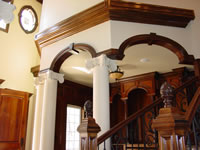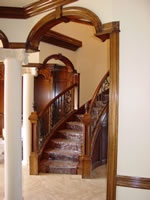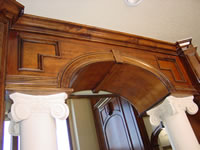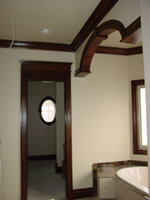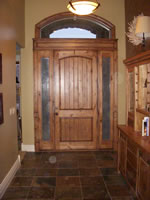 We use a Williams and Hussey molder to custom mill our trim. We have found that it is an extremely valuable and versatile tool. There are a wide variety of standard cutting blades available to mill everything from crown, casing, baseboards and bed molding. We can also custom order cutting blades to match any style of existing molding. This makes this machine extremely useful when doing restoration work or remodeling. This machine also has an open face design which allows us to cut molding in complex curves and elliptical arches.
Please visit their web site to learn more about the quality American made Williams and Hussey molder.
There are also many designs that can be incorporated into the standard trim design. Lathe turnings, properly placed corbels, fan brackets, and even fret work, can accentuate the beauty of your home.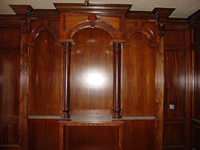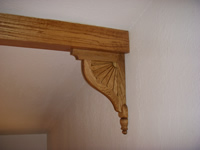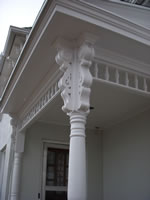 Crown molding is one of the more difficult tasks to complete in trim carpentry. If properly installed, it can add a grand sense of purpose and completeness to your rooms.
The examples below show a great room with crown triple stacked on curved walls with tight corners. The ceiling is over twenty feet high, and the crown is seven inches in width.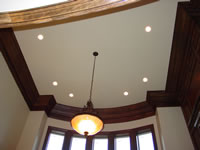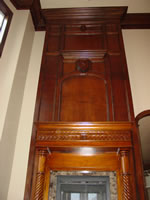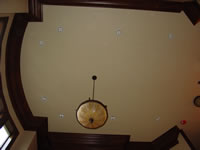 This example shows seven inch crown above the railing in a circular entry room.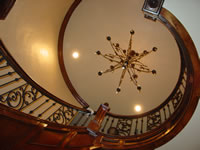 The examples below show crown stacked over inverted baseboard.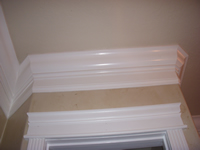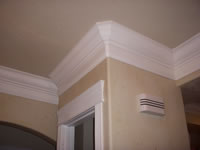 Crown can also be installed on vaulted ceilings, which many carpenters don't know how to do, because you are dealing with two angles instead of one in the corners of the room.